Little walks: Holt Owl Trail
16th May 2023
Holt's Owl Trail is a great way to explore this Georgian market town on foot, says Rachel Bowles
Holt is a beautiful Georgian town to wander around; we often spend time looking in the independent shops and enjoying a treat from the many cafés and bakeries. What we have not done before, is learn about the history of the town. Holt Owl Trail is a great way to explore on foot and find the 24 numbered pavement plaques which are referenced in the free trail leaflet, along with interesting anecdotes and old photographs.
To complement the Owl Trail, Holt Society published a beautiful book called 'Escapades in Holt' by Lynda Turbet and Susan Williams, which is really child friendly with clear illustrations (by Andy Ward), and poems. The book's 'Olly the Owl' takes you on a similar loop of Holt Town Centre and the trail takes around an hour to complete.
Zachary and Eliza loved the little stories and finding out why the owl is so significant to the town. We stood in the churchyard reading the fascinating story of Rebecca Blyford and a discovery of a gold ring within her grave that led to a pirate tale. We enjoyed trying to spot the stone plaques and signs listed in the book and it complemented the owl pavement plaques along the way.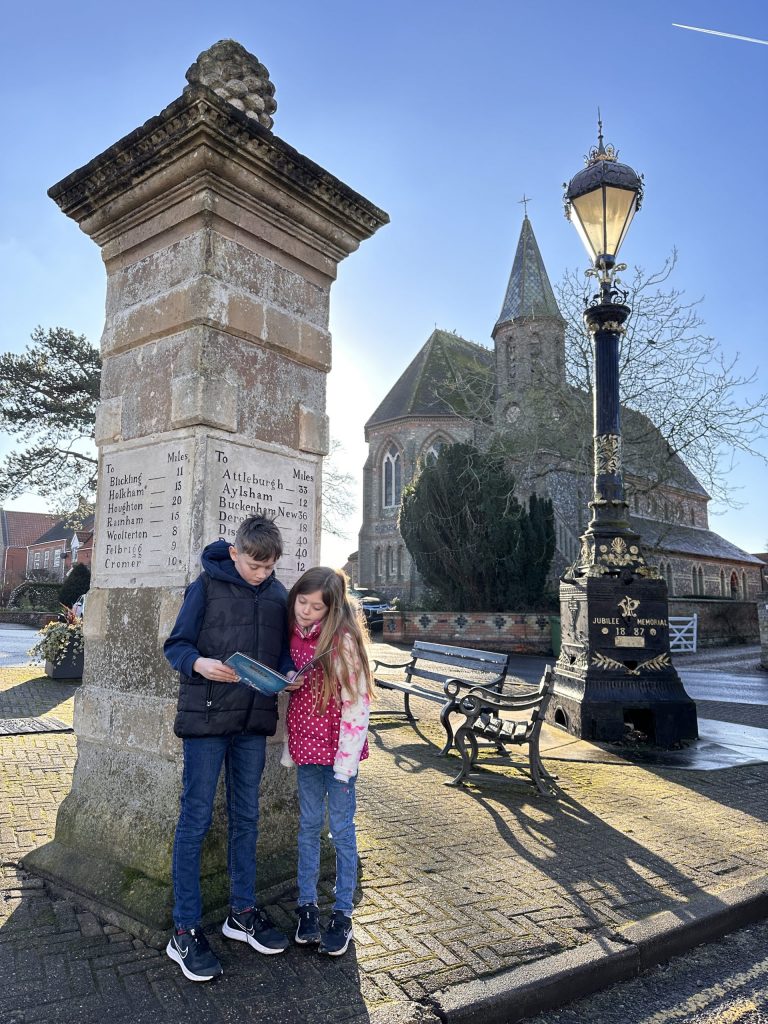 The Holt Society recently donated its remaining copies of 'Escapades in Holt' to the town's EACH shop, where it can be purchased, raising funds for this vital local charity. The Owl Trail leaflet can be picked up in many of the shops – we found ours in Holt Library. Alternatively follow along at www.holtowltrail.co.uk