Writing home
14th July 2021
Despite leaving Norwich at 18, Zoë Somerville has made an imaginative return to her native county in her debut novel,The Night of the Flood. Amanda Loose finds out more
It's perhaps no coincidence that Zoë got the call to say she had a publishing deal for her first novel whilst she was driving back to Norfolk in August 2019. Despite living away from her home county since her late teens and working as an English teacher around the world before settling in the West Country, Norfolk is still "home" and the North Norfolk coast the setting and inspiration for The Night of the Flood and indeed her next two novels.
"Norfolk is home. I've not lived here since I was 18 but it is home in a strange way still. It has a hold on you. You can feel like you no longer have a connection to home, but I feel like I reconnect when I write about it."
As a child, Zoë was an avid reader and dreamed of becoming a writer, but it took some years for this dream, circumstances and inspiration to align.
"My dad is a big reader and was very encouraging. I used to go to the Norwich Central Library all the time, I was always reading and just devoured everything. I went into English teaching so even more reading was required.
"It was very much a childhood dream to be a writer. I was one of those children always writing stories and poems. I'd sit outside with a pen and notepad wherever we went."
Zoë had written on and off throughout her life but started writing in earnest when she was approaching 40.
"It took me quite a long time to get writing with the dedication you need. I had my two children, Alex and Jessie, and other things got in the way. Being clear about what I wanted to write about took me a while too.
"It was a sort of challenge, always something I'd wanted to do. I did a masters course in creative writing at Bath Spa University when I was 39 and that made a huge difference to my writing and making The Night of the Flood better. I think there is a time for things and something like a novel needs you to put so much of yourself into it. The idea has to be the right idea."
Zoë's idea took her back to the North Norfolk coast, specifically Wells-next-the-Sea and the months leading up to the devastating flood of 1953 and its consequences, set against the backdrop of the Cold War.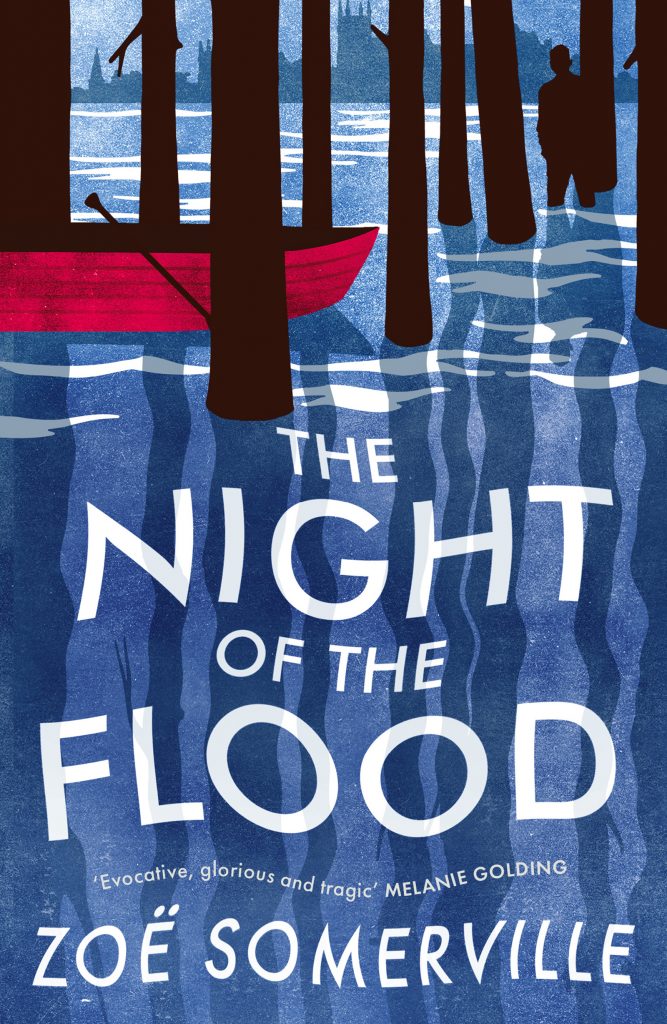 "The Night of the Flood is a coming-of-age tale about a young woman, Verity, and the people around her in the build-up to a natural disaster – the flood – and the aftermath of that; how the flood changes her specifically and other characters. I quite like reading a book where difficult things happen – you see characters as they really are when they are up against it."
I found the novel fascinating and moving in equal measure, and Verity's story in particular, her isolation and just how young she is, stopped me in my tracks several times as it unfolded with a sense of overwhelming inevitability, just as the reader knows the flood too will come.
The Night of the Flood is set in Wells-next-the-Sea because Zoë loves its topography and geography. "It has the bank going down to the beach and the pinewoods, a buffer against the sea. It made me think about man and nature and the way we interact with it, particularly there. The seaside and marshes are places of fun and joy but also places of danger and I am endlessly fascinated by that."
Zoë's descriptions of the coast are powerful, and the marshes' "strange otherworldliness" as a place between land and sea is the inspiration for her second novel, The Marsh House, a ghost story set in Stiffkey in the 1960s and going back to the 1930s, due to be published in March 2022.
"My third novel I'm working on is still set in Norfolk on the coast – I can't get away! I don't think it's a coincidence that I don't write about Norwich; I think what I've done is I've adopted the North Norfolk coast as a kind of imaginary homeland. There's something about it I find incredibly inspiring. It lives mostly in my head as I can't go to see it every day."
The Night of the Flood by Zoë Somerville is out in paperback, published by Head of Zeus, £8.99.