Go north, young man
13th October 2020
As author Kevin Crossley-Holland approaches 80, he tells Alison Huntley about his career's great turning point and his undimmed creativity
The poet W H Auden effectively launched the award-winning writing career of North Norfolk author Kevin Crossley-Holland with two words – "look north".
Auden had read the young Crossley-Holland's translation of Beowulf and knew of his fascination with myth and legend – he also knew that there was more untapped inspiration to be found in Scandinavia.
Backstage at the 70s ITV arts show Aquarius, the two had a conversation. "He said "Look north – there are so many northern stories and sagas and you're a northern creature"," says Kevin.
"So I did look north! It was 1978 and I gave up my job in publishing and took myself and my two children off camping in Iceland."
The journey had begun. Decades later, his reworkings of Scandinavian legends are as successful as ever – September saw the publication of Norse Tales, five thrilling stories for children, beautifully illustrated by Jeffrey Alan Love. 
"With Norse myths, there's very little compassion or kindness or uncomplicated love. They were vigorous, the Vikings, often exuberant, essentially masculine, extraordinarily brave, even reckless. There's a ruthlessness which children adore."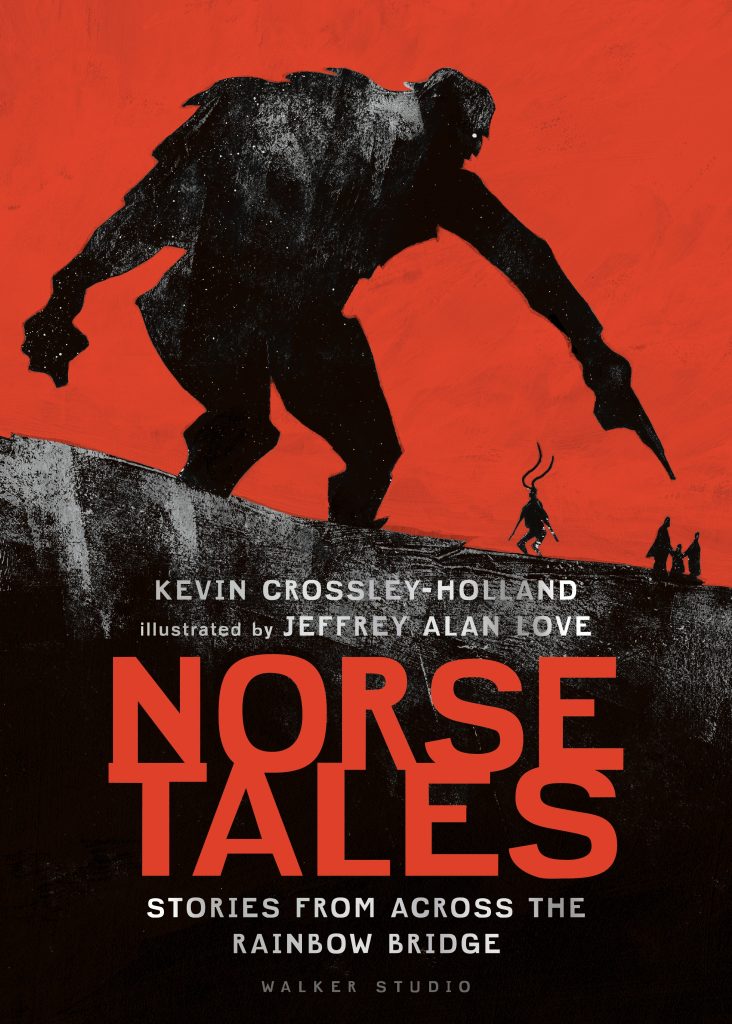 The Scandinavian works are just part of a prodigious output that includes Arthurian stories and Norfolk tales, amongst others. And at 79, Kevin is as busy as ever. He has just started the third in his Viking Sagas trilogy. Not even lockdown slowed Kevin's creative juices. He came up with 'Belonging' – 20 lockdown poems based on his five local Burnham parishes. These are "playful" poems with a "lightness of touch," says Kevin.
"They have to do with times past and present, but they are oriented to people who don't usually read poetry."
And he's just completed a new book, Arthur the Always King, which will be illustrated by Chris Riddell.
Contrary to appearances, Kevin insists "I doubt my creative energies are what they have been. I need a rest after lunch now." Even so, he puts in three- or four-hours' work in the morning and works again in the evening. "We eat late."
Not even a stroke five years ago slowed his creative output for long, although it did temporarily rob him of speech. "But a wonderful speech therapist worked with me for more than a year. Coming back to public speaking was quite difficult. And in the evening when I'm tired, I find myself jumbling up words and I hate that."
Lockdown had its benefits – cancelled events and travelling meant more time on his hands. Kevin was also heartened that it encouraged more community spirit and kindness. Unfortunately, lockdown also highlighted his struggle with his bête noire – technology.
"I'm prehistoric and I find it really difficult, almost impossible. With help from my PA, I did an online talk with Joanne Harris and Ben Okri for the Yorkshire Festival of Stories. There was an audience of 300 but there's no feedback, no ripples of laughter. It's exacting and wearisome."
No plans have been made yet to celebrate his milestone 80th birthday next February and Kevin seems unsure whether it's worth celebrating.
"Looking at slightly doddering contemporaries, I find it not very pleasing to find myself on the doorstep of 80. We are all a bit older than we think we are.
"What can you do? You can't plan anything. It looks like this COVID situation will go on a long time yet. I'm not really a party type anyway."
Let's hope that after an award-winning career as author, poet, playwright, translator and opera librettist, he'll find someway of celebrating.
Norse Tales: Stories from Across the Rainbow Bridge is published by Walker Studio, £16.99
The Ghost Beck
Where she rises when she chooses
to break cover is some way below
Chalk Hill Wood though not down as far
as Barrow Pit meadow but exactly where
her source is the dowser cannot tell
saying she surfaces each seventh year
is no more than an old wives' tale
come each spring the pond beside
the surgery turbanned with old bulrushes
starts swelling filling and deciding
as often as not to overflow
and making haste for the Hoste
coursing through the Green
flashing or glimmering surprising
drivers on their last leg to the coast
and splashing the windscreens
of those who disrespect her
until tiring no longer diaphanous
faltering fading she becomes
little more than a dark stain and then
one late afternoon just disappearing
a ghost lost to herself again
The Ghost or Goose Beck is a stream which appears sporadically and courses through the centre of Burnham Market.
From 'Belonging', 20 lockdown poems