Gardens of delights
29th July 2020
One of the joys of high summer is seeing a garden at peak gorgeousness. Alison Huntley checks out six of the area's must-see offerings
Holkham Hall
Rolling parkland roamed by herds of fallow deer, beautiful woodland, a huge lake… the magnificent 3,000-acres surrounding Holkham Hall are so vast that landscape architect Humphry Repton described them as "too large for painting to express". Even at its busiest, you can always find peace and quiet somewhere.
The six-acre walled garden has been a major renovation project and is still in part a work in progress. Seven sections or 'squares' make the most of its special microclimate, including an exotic garden.
The latest development is the newly designed Square Two, titled The Ornamental Garden. Here, the planting is formal, with colourful displays complementing the historic conservation and newly-cast bell of the Thomas Messenger Building.
There are also restored Victorian greenhouses to enjoy and The Kitchen Garden which supplies produce for the hall and The Victoria Inn, while a vineyard provides fruits for the table and grape juice.
Houghton Hall
As well as sweeping parkland dotted with modern sculptures and edged by ha-has, Houghton's five-acre walled garden is a prize-winning delight. Clipped yew hedges divide up the space following a formal grid and the different areas include a formal rose garden, an Italian enclosure with box parterres and a French garden of pleached lime and plum trees.
A double-sided herbaceous border is truly spectacular while Jeppe Hein's Waterflame is a must-see. And if all that isn't enough for your inner plantsman or woman, there's a rustic temple, fountains and more contemporary sculpture. It's a stunningly elegant haven and a complete treat for the senses.
This year, the seminal works of sculptor Anish Kapoor are adorning the grounds (until 1 November). Visits must be pre-booked. Click here to read all about it!
Mannington Hall Gardens
This moated, medieval manor, home to Lord and Lady Walpole, is set within picture perfect manicured gardens. The estate is lush and varied and offers walks and trails aplenty alongside the horticultural delights. There's also the Paston Cycle Route, launched in 2019.
Roses are a particular speciality here and devotees should check out both the Heritage and the Modern Rose Gardens for their dazzling arrays of colour and scent. A classic temple adorns the south lawn while the sensory garden has a water feature and plants chosen for their touch, sound and taste as well as their scent and colour.
To top it off, there are wildflowers and borders, landscaped lakes, period gardens and a children's garden with fairy nature trail, and playground (open with some limitations). Visits must be pre-booked and some areas of the garden may not be accessible.
East Ruston Old Vicarage
If you're after a garden with serious wow factor, look no further. These 32-acres, just a mile and a half from the North Sea, have been transformed by owners Alan Gray and Graham Robeson from windswept prairie into a feast of horticultural creativity and imagination.
There are Mediterranean, Dutch, Tea, Winter, Woodland and Glasshouse Gardens, amongst others. There's a rose garden and a clematis walk, topiary, wilderness, a wildflower meadow, palm trees and tree ferns. East Ruston also makes full use of its position with surprise viewpoints here and there of beautiful local vistas such as Happisburgh lighthouse.
Rare and unusual plants abound here, and owners Alan and Graham still see their magical plot as a work in progress so there are usually a few tweaks and changes to be enjoyed. Allow lots of time – this is not a garden to be rushed.
www.e-ruston-oldvicaragegardens.co.uk
Hindringham Hall Gardens
The gardens here are one of Norfolk's secret places and were described by Stephen Lacey as "paradise regained". They're also shortlisted for Historic Houses 2020 Garden of the Year (previous winners include Blenheim Palace and Houghton Hall).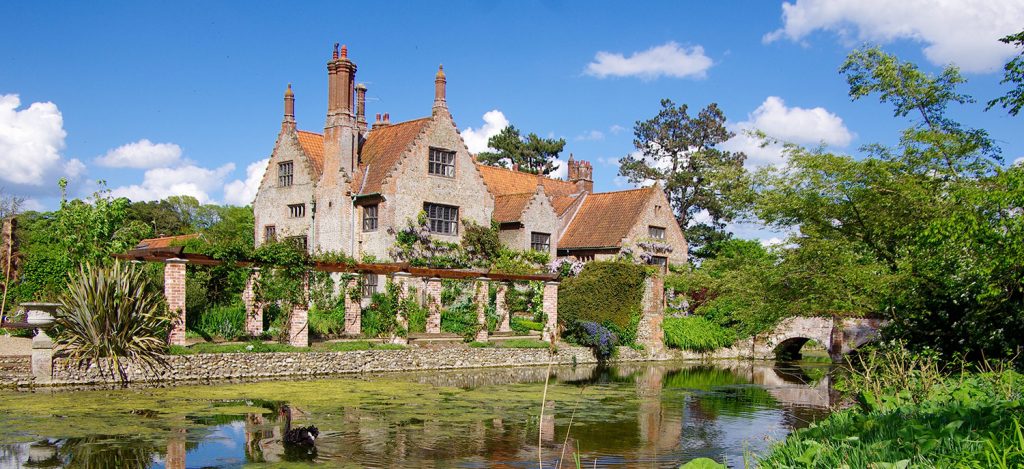 The hall's moat – one of only a few complete moats in the county – dates back to 1150. Five medieval fishponds spread over three acres are another nod to the hall's impressive history.
All the water and its languid reflections gives these special gardens a particularly tranquil feel. A bog area with gunnera manicata and water lilies and irises leads to a water garden backed by an autumn border.
If it's hot, make the most of the Victorian nut walk, which becomes a cool, shady tunnel at this time of year. And don't forget to check out the productive vegetable garden, wild garden and lawns. An August highlight is a carpet of beautiful autumn crocus bounding the moat.
Pensthorpe Natural Park
As well as being a fabulous 700-acre nature reserve, Pensthorpe in the Wensum Valley also boasts five spectacular gardens – each, as you might expect, specially created (by award-winning designers) to support and encourage wildlife.
This is the place to come for ideas. The Millennium Garden is an acre of exuberant floral colour and texture designed by pioneering Dutch plantsman Piet Oudolf. This August marks 20 years since it was officially opened.
It was the first UK public space to be designed by Oudolf, and the drifts of prairie, steppe and sub-alpine plants here are his design signature and are at their peak between July and September. The garden also now features a Monet-style bridge and an island.
The Wildlife Habitat Garden is water-focused and supports everything from dragonflies to bats and bees. For a real design treat, check out the Wave and Wave Line Gardens, where designer Julie Toll combines beautiful woodland with locally produced sculptures as well as a serene lakeside garden with its 'Nest' artwork. 
The newest addition is the Corten Infinity Garden, which lines the walkways around the indoor play area, Hootz House (currently closed). Pre-booking online is essential.
For more information, including opening times and ticket prices, visit the website listed with each entry.