Community in action
27th May 2022
Steve Newell talks to Lynne Burdon, newly appointed Chair of Homes for Wells, about its mission to provide affordable homes for local workers in Wells-next-the-Sea and the surrounding area
There's a scarcity of empirical evidence to support this theory, but I'm going to go out on a limb here and declare that many a great idea has been conceived while walking the dog. Genius, lightbulb moments, divine inspiration – call it what you will, but mysterious and life-affirming things can happen when walking the dog. This was certainly true when Lynne Burdon took Alfie the golden doodle out for a stroll around the quay in Wells during the first national lockdown in spring 2020.
Lynne had recently retired to Norfolk after a career as a property solicitor in London. "At that time people were banned from visiting second homes and I noticed there were hardly any lights on in the houses." she recalls. "It was dark and quite eerie, to be honest. It struck me how few full-time residents there were here."
At the same time as becoming aware of a problem that affects many desirable coastal areas, not just North Norfolk, Lynne was also conscious not to become part of the problem. "I suppose there was a bit of guilt," confesses Lynne. "There was me swanning into Wells with money earned in London. But I've always been the type of person to want to 'give back'. As soon as I became aware of Homes for Wells it felt like a great fit for me, so I applied to join the board."
Lynne joined Homes for Wells in November 2020 and became Chair last September. "It's a full-time job," says Lynne, "but it's extremely gratifying work. Just recently we re-housed a local woman who works in our supermarket, and she is absolutely overjoyed to have a decent affordable home in Wells."
Homes for Wells is a Charitable Community Benefit Society, run by the local community for the benefit of the local community. It exists to provide homes at affordable rents for the people of Wells and the surrounding parishes of Stiffkey, Holkham, Wighton and Warham.
"Wells is a beautiful place with over 40% of our properties second homes or holiday lets. This pushes prices out of reach for local workers. At the moment there are no properties available for long term rent within three miles of Wells – and even if there were the rent would be unaffordable to most local people" explains Lynne "We have around 40 local families, couples and singles on our waiting list – all currently in insecure accommodation and in urgent need of rehousing."
Lynne and her team remain optimistic and highly motivated. Homes for Wells started only in 2006 and already it owns 22 properties and manages eight more. They hope to add more to that in the coming year either by buying properties or by persuading those who own a second property to allow Homes for Wells to manage it long term and let it to a local person at an affordable rent.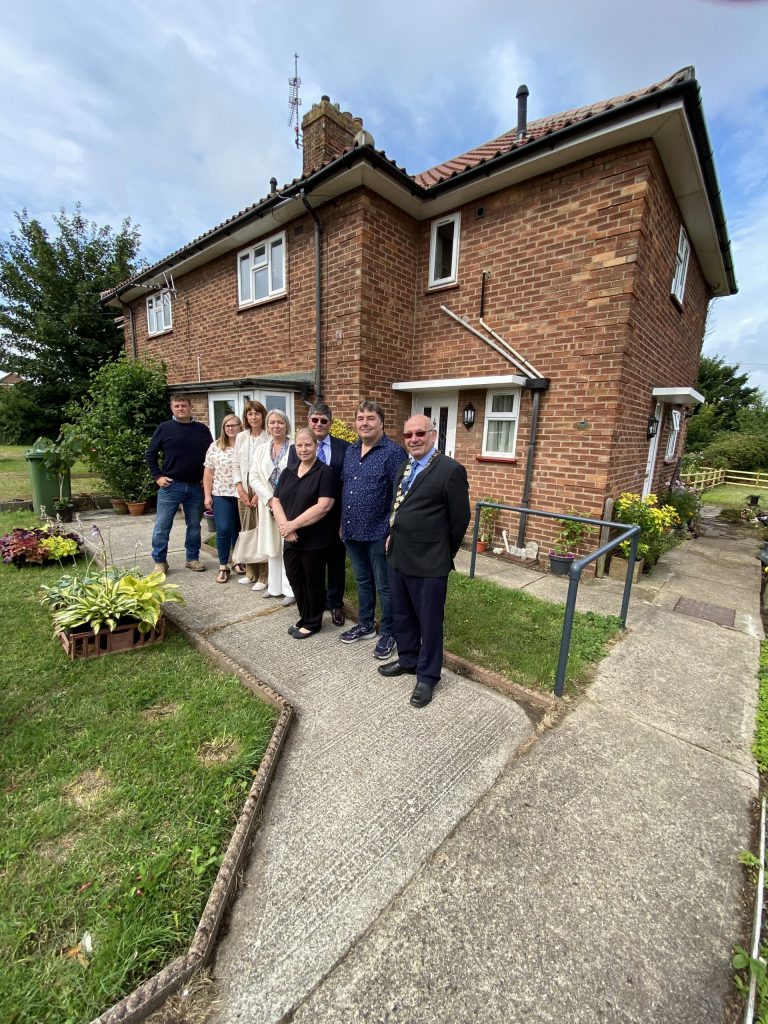 The official opening in August 2021 of two flats to which the Holkham Charitable Trust donated £30,000 towards their repair. Pictured (left to right) Pat Weston, contractor; Annie Golding, board member; The Countess of Leicester, patron; Anna Clarke, Community Housing Enabler, North Norfolk District Council; David Fennell, outgoing chair; Julie Phillips and Shaun Hall, tenants; Mike Gates, leader of Wells Town Council and Mayor of Wells-next-the-Sea
"It's going in the right direction," says Lynne. "We've had wonderful support from people here. A lot of our second homeowners are very active members of the community. They support us. Some donate a week's rent to the society every year. But we always need more help, more support, more money."
Currently, income is derived from a variety of sources, including grants from the district council, loans, donations from local benefactors and fundraising initiatives which are many and varied. Duncan Baker MP came to meet with the Board in November; Lady Glenconner gave a fundraising talk in February. Awareness is growing and hopefully, with that, the coffers will grow, too.
"There is so much going on in and around Wells that make it special," says Lynne, "but local people need to be able to afford to live here so that our businesses can recruit staff. Unlike any other affordable housing provider, we prioritise people who work locally. If Wells is to remain a thriving town it is essential those who provide our key services – for example lifeboat crew, doctors surgery staff, shopworkers – can afford to live here. If they are priced out, then Wells will become a dark town that exists only for the holiday market."
To find out more about Homes for Wells' work or to get involved, visit www.homesforwells.com