12 ways to supercharge your autumn
17th October 2020
From cold weather skin saviours to fresh air fitness, here's how to look and feel healthier and happier. New season, new you… says Harriet Cooper
Build up strength and poise
Coronavirus may have temporarily put paid to attending your regular Pilates workout, but Body Control Pilates teachers Hannah Nicol and Gary Newstead – who run The Old Stables Pilates studio at Brancaster Hall – have launched an online hub where you can follow sessions led by the pair. The classes – which vary from a ten-minute workout to the full hour – are packed with posture and positioning tutorials, useful advice and encouragement. Choose from a monthly (£20) or annual (£210) subscription and watch any class from your laptop, tablet or phone, as many times as you like.
Disconnect to reconnect
How better to escape the stresses and strains of the day-to-day than by immersing yourself in the wild, to breathe in fresh air and soak up the beauty of the North Norfolk landscape? Join one of the Back to Nature Walks at Holkham National Nature Reserve, a series of three-hour expeditions led by 'Woodland Will' (as he's affectionately known).
Each walk has a theme and offers an opportunity to re-balance and recharge. Tickets cost £18, booking essential.
Eat the rainbow
Eating brightly coloured fruits and vegetables keeps you healthy especially now, when the seasonal delights reflect the autumnal hues. "In the purple group we have beetroot and plums, a good source of Vitamins C, A and K, so too blackberries, which are rich in antioxidants," explains Pamela Taylor, nutritional therapist. "Oranges and yellows include the humble carrot, pumpkin, butternut squash and sweet corn, providing us with beta carotene which is an antioxidant, as well as potassium and Vitamin C. Then we have the greens; the cabbages, kale and watercress, all of which are great sources of folate."
www.facebook.com/NutritionTaylor
Give your hair a boost
The inclement climate has a lot to answer for, with central heating inside and plummeting temperatures outside leaving locks drier and frizzier, and our scalp flaky and itchy. At Barnetts – a recently opened salon at Drove Orchards in Thornham – you can transform your locks with a rejuvenating hair and scalp treatment. Our favourites? Bumble and bumble Damage Control (£25), which promises to soften and repair every strand, and the invigorating Scalp Treatment (£10) to prevent over-drying and remove impurities; all products used are available to buy.
07392 622084, www.barnetts-hair.co.uk
Switch up your skincare
Alter your skincare routine to introduce products that nourish, hydrate and protect in the colder weather. The Retreat at Brancaster Hall offers an extensive menu of facials and body treatments, including the Elemis Superfood Pro-Radiance Facial (£65 for 60 minutes) designed to invigorate and energise stressed, dull skin.
You can also buy the Superfood skincare range at the salon, including the new AHA Glow Cleansing Butter (£30), which melts away impurities, and the Glow Priming Moisturiser (£39) for that dewy, luminous complexion.
01485 210387, www.retreat-spa.co.uk
Energise at the outdoor gym
Exercising outside can help ward off seasonal affective disorder, depression and anxiety, as well as provide Vitamin D (essential for strong bones, healthy muscles and improved immune function); not to mention the exhilaration of being in the open air. Fakenham has two outdoor gyms – one in Millennium Park, the other in Hayes Lane. Both spaces have a range of robust easy-to-use equipment for people of all ages and abilities. And the best bit about your alfresco workout? There's no need to book, you just turn up – and it's free.
Boost your bath routine
Norfolk Natural Living – the slow-luxury home care and wellbeing brand established by aromatherapist Bella Middleton – has created a bespoke Saltmarsh fragrance for Holkham.
With its notes of ylang ylang, patchouli and lavender, the scent perfectly encapsulates the natural beauty of the estate and has been interpreted into a bath and body range exclusively available from Holkham's Courtyard Gift Shop. "Holkham loved that we are a local brand and that we use organic, sustainably sourced ingredients," says Bella. In other news, NNL is opening a second premises in Holt this autumn – a wellbeing, perfumery and remedy store.
Go green at home
Be kinder to the planet at home by visiting the Re-Store, a vegan-friendly, zero waste online store selling a cornucopia of ethical essentials for everyday living.
As well as beauty and wellbeing goodies – including my go-to Moo Hair Miracle Shampoo and Conditioner (£22 each) and the deliciously scented Herb and Wild Aromatherapy candles (£12), which are perfect for a cosy night in – you'll find an impressive array of household wares. These include Fill, a range of refillable eco laundry and cleaning products in eye catching glass bottles that look cool and reduce package waste.
Head into the wilderness
Coastal Exploration Company takes people adventuring amongst the wild creeks, marshes and open sea off the North Norfolk coast in traditional wooden sailing boats.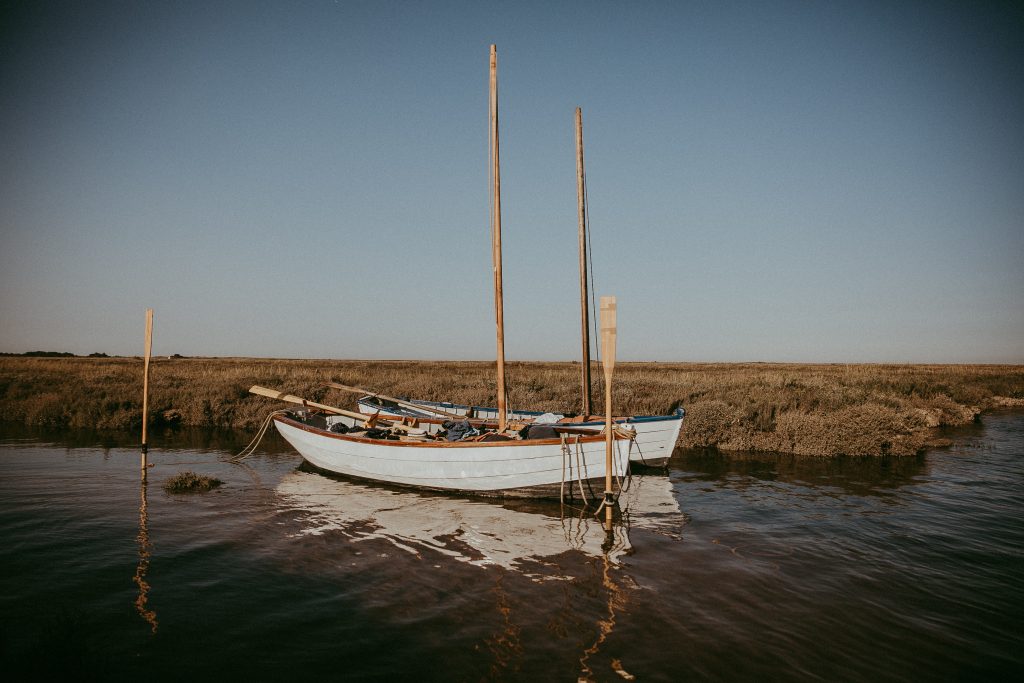 Their latest offering, the Wellness Sail, invites clients to spend half a day aboard a mussel flat (an engineless punt), surrendering all mobile devices and immersing themselves fully in nature. Surrounded by nothing but wildlife, spend the time meditating, practicing yoga, wild swimming or simply soaking up the silence, before enjoying a locally-sourced meal and returning home, fully recharged. A half-day wellness sail for four, including food, costs £85 per person.
www.coastalexplorationcompany.co.uk
Experiment with your look
If you fancy a change, you could think about your hair colour. Opting for a plant-based colourant will not only avoid damaging your hair with nasties such as peroxide and ammonia, it's kinder to the planet too. The Old School House Hair Company in Old Hunstanton has recently introduced the Kitoko Botanical range into the salon; based on purified, preservative-free dyes, including metal-free henna, turmeric and rhubarb, expect equally natural-looking results that last up to 20 washes, making it perfect for damaged hair and first-time colour clients.
01485 535376, www.theoldschoolhousehaircompany.co.uk
Regroup your mood and energy
With work and school to navigate, and shorter, colder days, it's little wonder you feel in need of a pick-me-up. Which is where massage comes in. The power of touch should not be underestimated – it eases aches and pains, yes, but it also helps reduce stress, boosting mood and energy levels.
Red K Elders – a qualified massage therapist, also trained in body psychotherapy ("massage can be a supportive way into releasing emotions") – offers one- (£70) or two-hour (£125) appointments at Wiveton Parish Rooms, where you can have your massage in front of a crackling fire.
Buy local and get cooking
Autumn is a time to feast on fresh produce that's packed with essential vitamins, minerals and fibre to keep our immune systems and gut microbiomes happy.
"Nature is incredibly clever at supplying us with what we need," says nutritional therapist Arabella Hambro.
"Buy local, seasonal produce where possible. Batch cooking stewed fruit – easy to digest and versatile – and nutritious soups is a great way to add fruits and vegetables to your diet. The Vitamin A-packed orange root veg are also great in curries. And leafy greens, rich in folate, iron, zinc, Vitamin K and magnesium, are lovely in stir fries."
arabellahambro@naturedoc.co.uk
Clinic bookings 020 3637 7181
You can follow Harriet on Instagram @girlnextthesea