Let's take this outside
26th May 2022
As the mercury rises, we all want to eat and drink outside. Sarah Hardy picks her favourite alfresco options
The Gunton Arms, Thorpe Market
This knapped flint building is part of the 1000-acre Gunton Estate and wonderfully positioned on the edge of a deer park. Now owned by Chelsea art dealer Ivor Braka, it is filled with the most amazing pieces of art (think Freud, Hirst and Emin), and also boasts 16 bedrooms.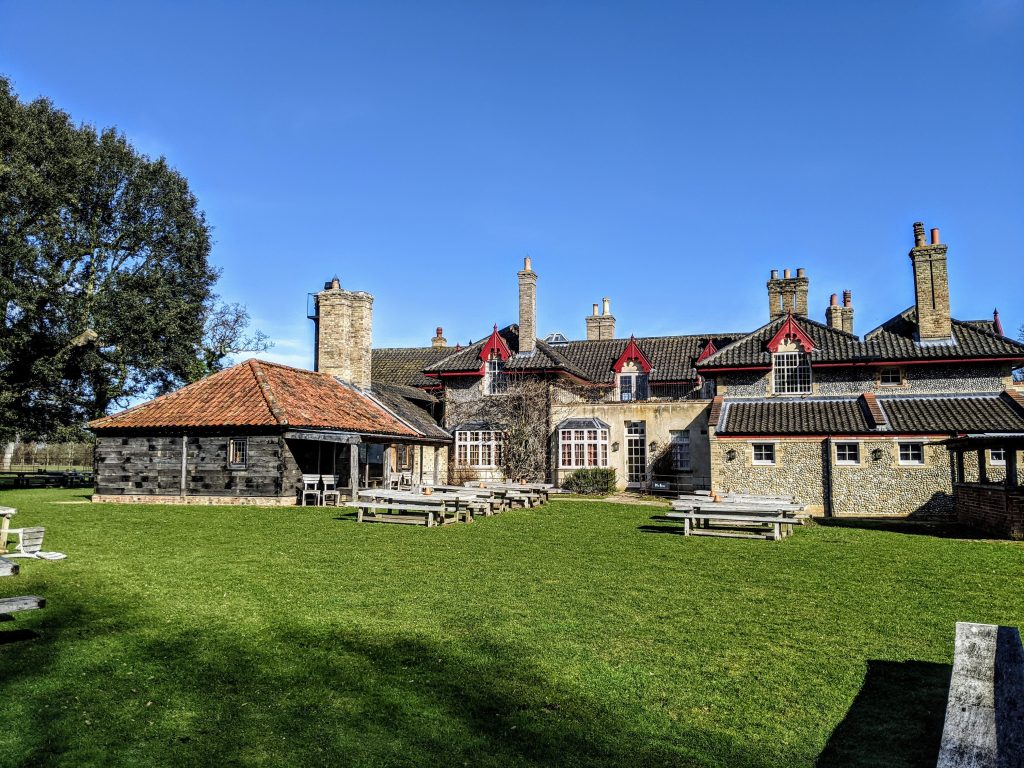 Stuart Tattersall cooks over a large open fire in the Elk Room – look out for the Estate venison – and the menu always also includes lots of locally caught seafood plus some tasty bar snacks, which are available all day, like spicy wild boar sausages with chilli jam. Outside are long tables to soak up those wide, open views and watch the sun gently set. It's close to heaven on a balmy summer's evening.
Rocky Bottoms, West Runton
The Matthews family – fisherman Richard and wife Ali in the kitchen – run this popular seasonal restaurant, right on the cliff tops near Sheringham. Based around an old brick kiln, they put crab front and centre on the menu – and quite right, too.
Richard catches it in his trusty Anna Gail fishing boat, and the team serves it simply – in sandwiches, salads, fish cakes and more. Also look out for exquisite lobsters and Brancaster oysters, plus they have a drinks licence now, too, with some good local wines and craft beers on offer.
There is plenty of outside seating, with panoramic sea views, and it's a perfect place to just sit and enjoy the fresh shellfish.
Castle Rising Tearooms, Castle Rising
This is such a pretty spot in a pretty village. It ticks all the boxes for what a tearoom should be – it's set in a characterful flint farmhouse, has two separate rooms kitted out in country chic style, a counter with lots of cakes on display and a gorgeous, and well stocked garden. There are lots of wooden benches on a wide grassy area, while the herbaceous borders boast roses and other traditional cottage garden blooms. There's a full menu – from breakfasts to lunches to the star attraction: afternoon tea. Make sure you leave time to visit the 12th century castle remains and the parish church, and to browse in one of our favourite fashion boutiques, Allez Chic.
Find them on Facebook
The Rose & Crown, Snettisham
This is a popular place, right in the heart of the village. The whitewashed building takes you into a bit of an Aladdin's Cave of dining areas and a great bar, and there's a lovely walled garden to enjoy in the fine weather. 
One side is home to a children's play area with the Merry Rose ship to explore while the sky blue Beach Hut Bar is joined by the Beach Hut Kitchen where you can buy delicious street food like a R&C Proper Dirty Steak Burger!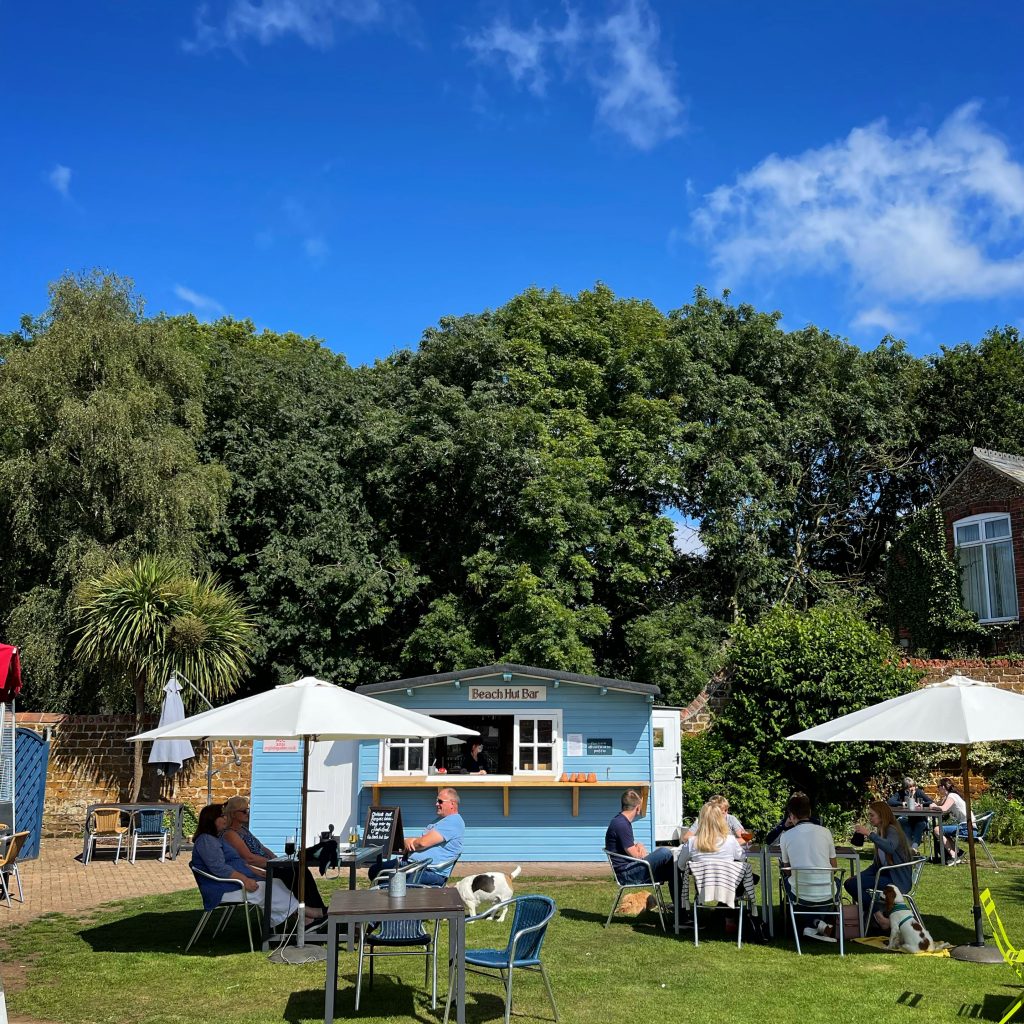 There are plenty of tables and chairs on a paved area plus a decent-sized grassy area and well stocked borders – and a fine plum tree. Add in 16 bedrooms and a new residents' only lounge and we're moving in!
www.roseandcrownsnettisham.co.uk
The Stables, Royal Norwich, Weston Longville
The Royal Norwich is one of the region's leading golf courses and The Stables is their highly contemporary and rather snazzy clubhouse – just don't call it that. It's all floor to ceiling doors and windows, there's a long bar, The Paddock, with its own microbrewery, and a lovely set of rooms in the original part of the building – do seek out the airy conservatory.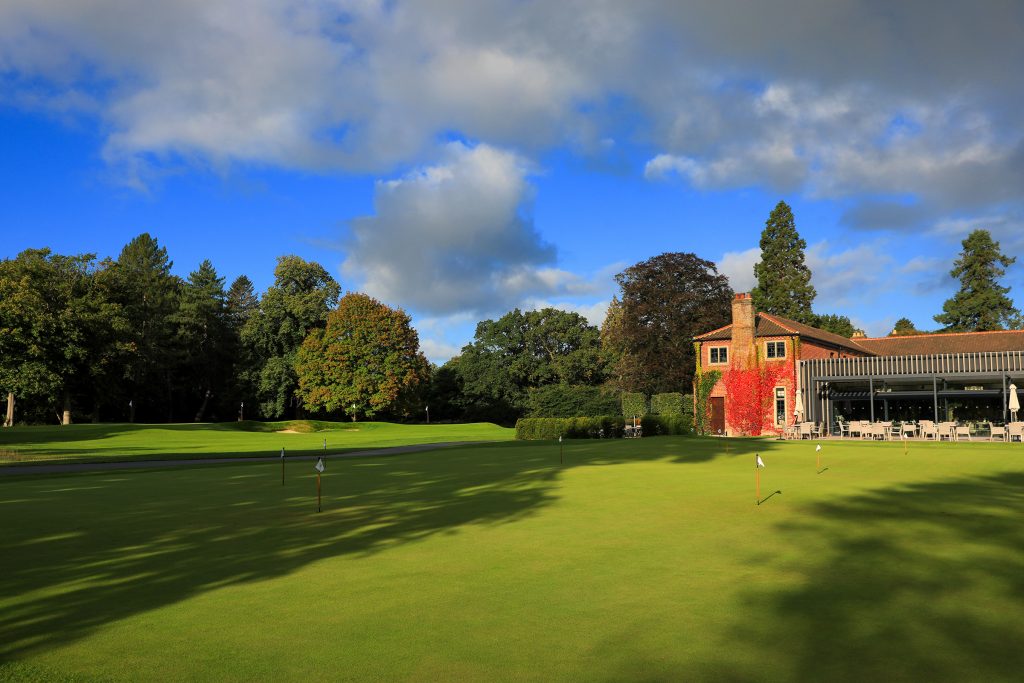 Outside is a wide terrace, a lovely sunny spot with views over the putting green and beyond – the course is set in 350-acres of historic woodland. Food is served all day, with lots of favourites like pizza, salads, burgers and more, with Sunday lunch and afternoon teas both very popular.
Two Magpies, Blakeney
This popular artisan bakery has a wonderful setting on the quay at Blakeney, in the flint St Nicholas Church Hall. With plenty of seating outside at the front, on a little deck, you can sip your latte as you watch bustling harbour life. 
Inside are fridges and countertops, all crammed with cakes and sweet treats plus salads and sandwiches and their comprehensive range of breads, too. The choice of both coffees and teas is impressive and the menu also includes soups, maybe a tagine, and treats like smoked haddock, spinach and poached egg on toasted sourdough. Delicious!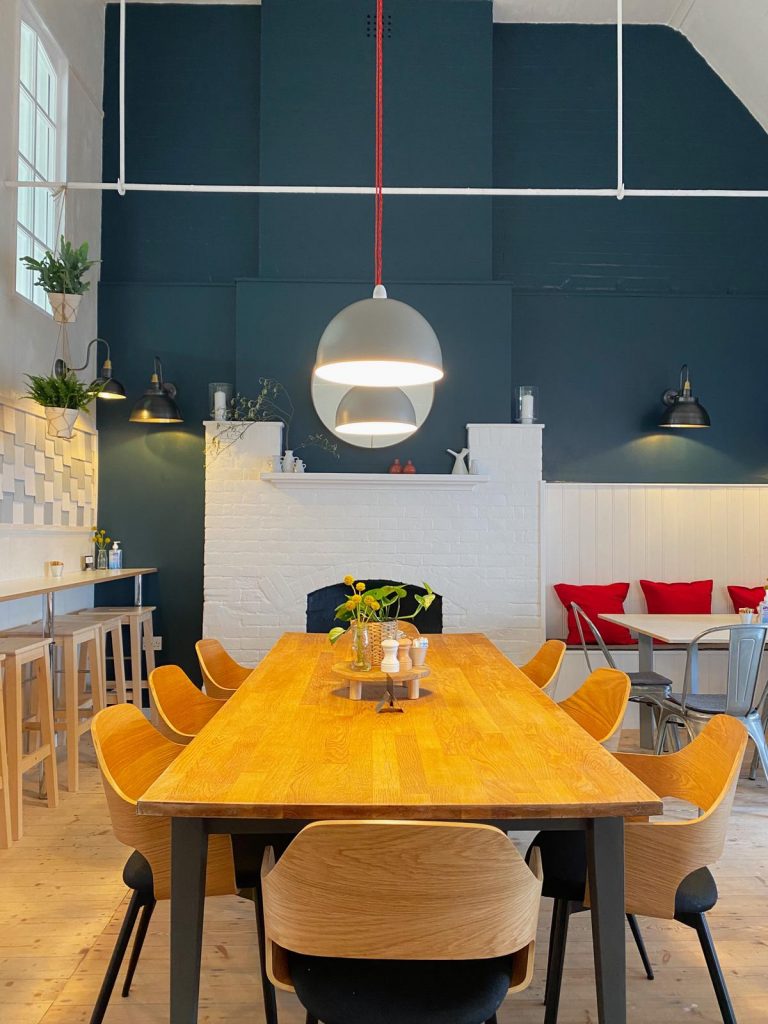 The Brisley Bell, Brisley
Standing on a huge village common where games of cricket are played in the summer, right in the heart of the county, The Brisley Bell has been a runaway success since it reopened in 2017. It's a big handsome place, kitted out with plenty of flair by owners Amelia Nicholson and Marcus Seaman, with Michelin-trained executive chef Hervé Stouvenel creating ambitious dishes using locally sourced produce.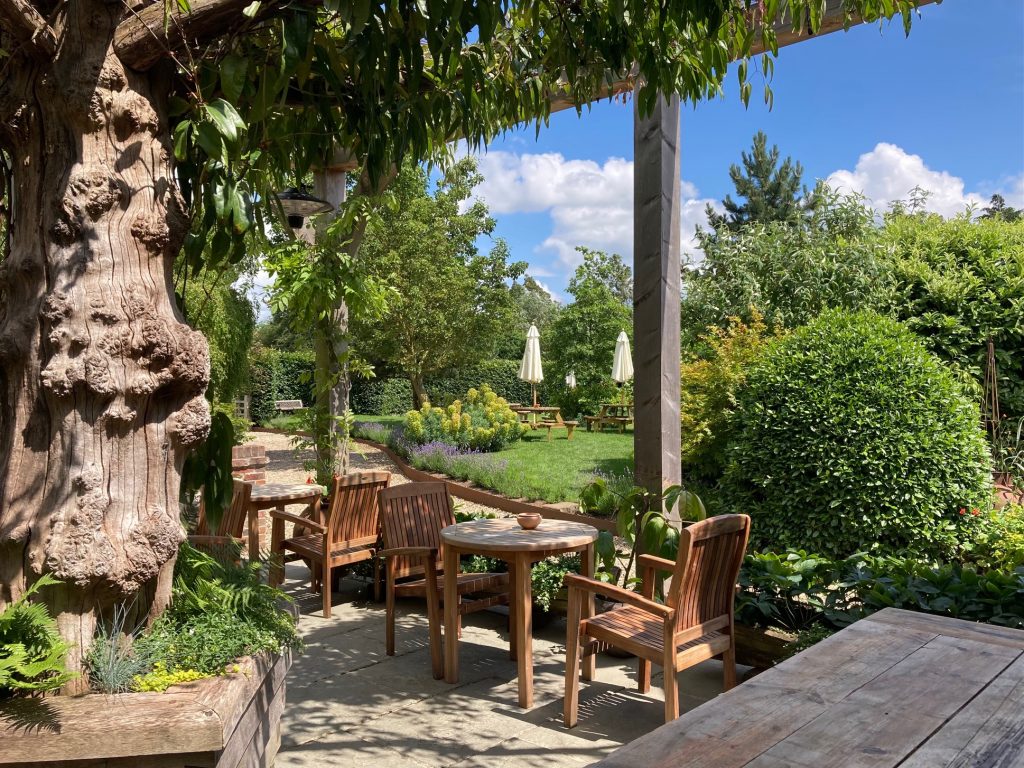 The large garden has had just as much care lavished on it. There's plenty of space, for a start, lots of mature planting, deep herbaceous borders, a herb garden and a new addition – The Shed, a perfect place to chill out. Add in six bedrooms, too.
The White Horse, Brancaster Staithe
This iconic hotel, a favourite with many for decades, looks out over the salt marshes to Scolt Head Island. There's a wonderful first floor terrace where you can eat and drink – head chef Fran Hartshorne's seafood platter has to be seen to be believed – while the Marshside bar is fast becoming the coolest place on the coast to meet friends. Food is served all day, dogs are welcome (not in the main restaurant) and there are 16 bedrooms.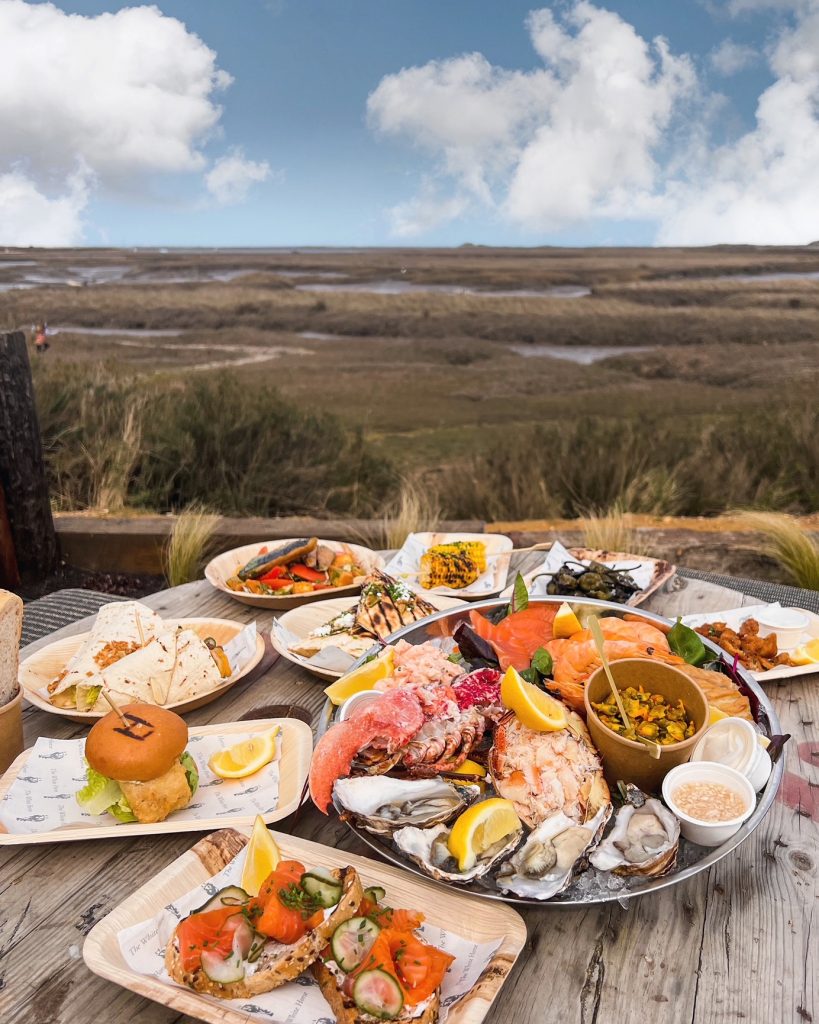 Wiveton Hall Café, Wiveton
This is another justifiably popular cafe, right on the marshes between Blakeney and Cley. It's part of the Jacobean Wiveton Hall estate owned by Desmond MacCarthy. The cafe is seasonal, with masses of brightly coloured outdoor tables and chairs, and the food is fresh and tasty – their salads are recommended along, as ever, with their selection of sweet treats.
Make time to stroll around the garden, and do seek out a wooden bench on a little mound which is a particularly perfect spot for a bit of me time as you swallow in that stupendous view – preferably with a glass of wine in your hand!
The Earle Arms, Heydon
Heydon is such a gem – a one road in, one road out sort of place. It's one of the few remaining privately owned villages in the country and is very attractive. The 16th century pub stands on the village green with the church almost opposite, too. It's a proper pub, with good, well priced food and well kept beer.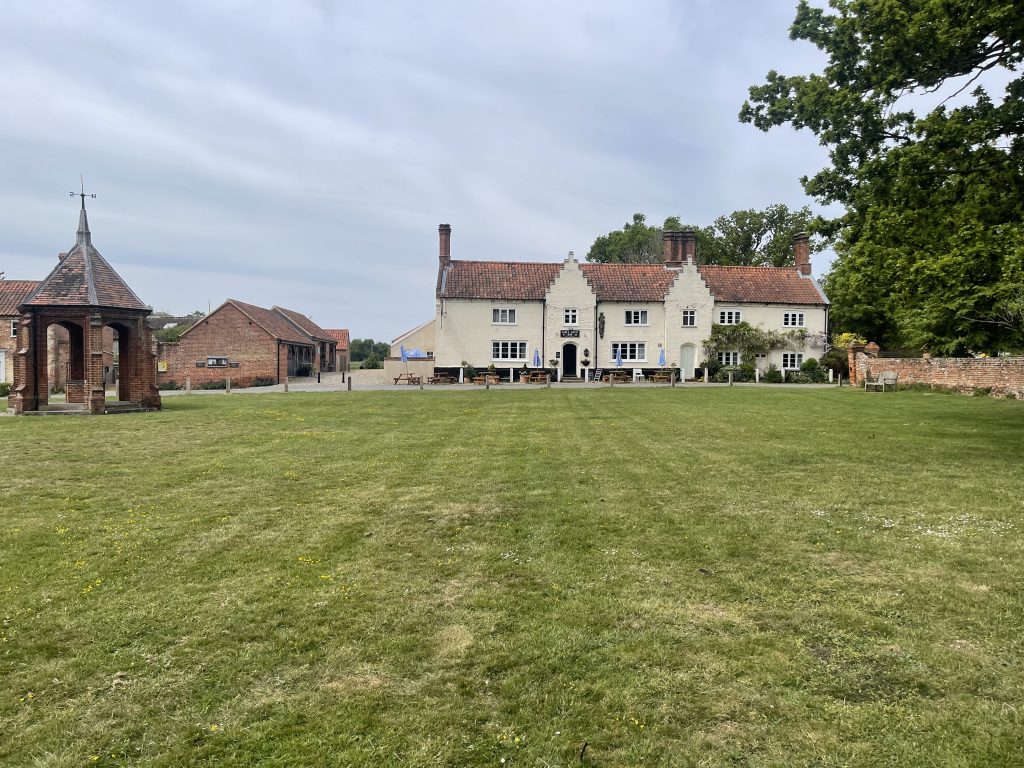 There are tables out front where you can watch the world go by and enjoy this chocolate box pretty village, with its picturesque cottages and their gorgeous gardens!
Where else?
If you fancy shopping for homewares and fashion, and a good coffee with views over the reed beds at Cley – we're talking literally just off the Norfolk Coast Path and new boardwalk here – then head to Artemis. Don't forget your binoculars, as it's the perfect place for spotting sedge warblers, and marsh harriers wheeling overhead. The Dun Cow at Salthouse has tables out the front, with uninterrupted sea views, and the Folly Tearoom in Holt boasts super gardens, with tables carefully placed among the blooms.